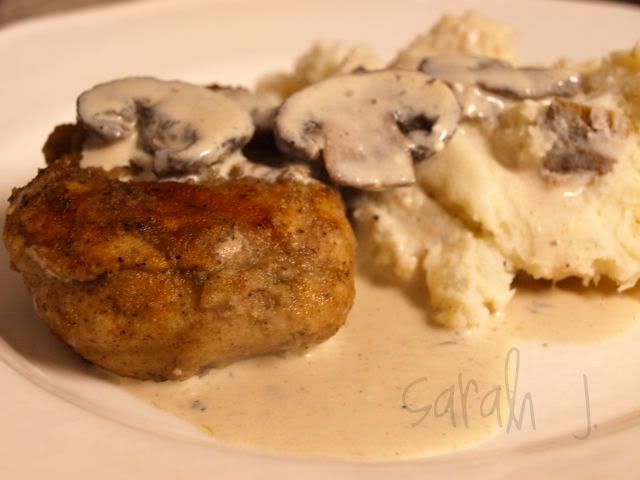 I love this recipe. So much. The gravy has cream cheese in it. Oh, it is to die for! I borrowed it from my amazingly talented chef of a friend, Kaylee.
Click here to get her original recipe
...I had to make some adjustments based on what ingredients I already had!!! Also, I doubled it. Thanks Kaylee!
3 lbs. potatoes, cubed
1/2 c. flour
2 1/2 tsp. salt
2 1/2 tsp. rubbed sage
1 tsp. dried thyme
1 tsp. pepper
8 boneless, skinless chicken breast halves (6 oz. each)
4 Tbsp. Olive oil
3/4 lb. sliced baby portobello mushrooms
2 pkg. (16 oz.) cream cheese, softened,
divided

2 1/2 c. chicken broth
, divided

*
Place potatoes in a large saucepan and cover with water. Bring to a boil. Reduce heat; cover and cook for 10-15 minutes or until tender.
*Meanwhile, in a medium bowl, combine flour,
2 tsp
. salt,
2 tsp.
sage, thyme and pepper. Add chicken, one piece at a time, and coat both sides. In a large skillet, cook chicken in oil over medium heat for 5-8 minutes on each side. Remove and keep warm.
*In the same skillet, saute mushrooms until tender. Reduce heat; add
12 oz.
cream cheese,
2 c.
chicken broth, and remaining salt and sage. Cook and stir until cream cheese is melted. Drain potatoes; mash with remaining cream cheese and chicken broth. Serve with chicken and sauce mixture.
Yield: 8 servings.